I just watched Crazy, Stupid, Love for the first time. It was pretty good. I laughed quite a bit even if those collective moments didn't make an amazing movie. But what I noticed most was that this movie was a font of memes. Every scene seemed to produce a different gif for the internet to use to react to news and tweets. But even more so, there were three top-tier reaction gifs that I had no idea belonged to this movie.
The morning I watched the movie, Ryan Gosling was trending on Twitter (which may have been the subliminal reason I chose it) because one dude got into a Twitter fight with another dude and tried to flex on him by sharing a picture of himself with his girlfriend, only to get decimated by Twitter-trolls all over the world because his girlfriend shared more than a passing resemblance to Ryan Gosling. Cue an infinite number of reaction gifs of Ryan Gosling, in sunglasses, showing over-the-top levels of disgust in different contexts- disgust at himself realizing why he was trending, disgust at the girl, disgust at the strangeness of this twitter trend (Twitter is a very meta place). What I did not realize is that that gif is from Crazy, Stupid, Love, and happens in a hilarious moment when Steve Carell's character whips out his velcro wallet in front of the impeccably stylish character played by Ryan Gosling.
 This gif makes its round all the time, even outside the bounds of odd machismo Twitter battles that become viral due to odd celebrity look-a-likes, and only now did I connect it to a movie- a very new age feeling of serendipity. 
Crazy, Stupid, Love also is the home of the Steve Carell's, drink, point, and wink gif which is used to celebrate all sorts of clever comments, congratulations, and celebrations. The moment is made when Cal Weaver finally hits his stride as a man's man as opposed to the man who lost his masculinity. As he woos woman after woman with his newfound set of skills, he eventually tops it all off with a raise of his glass, which internet users everywhere continue to use in moments of acknowledgement.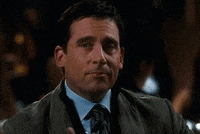 And as if two all-time gifs were not enough for one movie- and a not super popular movie at that- Crazy, Stupid, Love has a third. In the climactic scene the main male actors sat in a row on a bench, and in a moment of ironic commentary, Ryan Gosling tries to stifle a laugh, with legs crossed and a hand over his mouth. It's a nuanced reaction to be sure, but one that fits a specific internet need, where an OP or tweeter does not realize the irony or humor in their post, or a news headline or video is shared that is funny in a way it should not be, or we feel bad for finding something funny.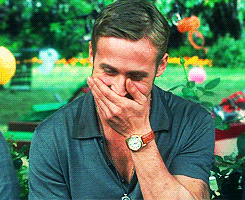 If you were to search any movie title and 'gif' into Google, you would find dozens of gifs for it, Crazy, Stupid, Loveincluded- these are by no means the only gifs from the film. However, most movies do not have one commonly used, top tier reaction gif or meme in the internet world. Crazy, Stupid, Love has three, which, for longtime lurkers or big-time shit posters, is a fun fact for the ages. 
Did you like this post? Click here for Did You blank It? homepage.
For more posts like this, like, comment, or follow, or check us out on Twitter @BlankDid.
If you liked this, you may also like:
Keanu: The Walking Meme And Genuinely Good Guy [Always Be My Maybe]
Ranking The Deaths In [Jurassic Park]
The Apache Relays: The Greatest Upset In Camp History [Heavyweights]
Tony Stark was able to build this in a cave! With a box of scraps! [Iron Man]
Reaction To The Original [Dune] (1984)